A leading Ontario drug researcher and a London streetfront doctor are firing back at a recent surge of criticism – echoed by a city councillor and the leader of the Conservative party – about safer opioid supply programs.
Article content
A leading Ontario drug researcher and a London streetfront doctor are firing back at a recent surge of criticism – echoed by a city councillor and the leader of the Conservative party – about safer opioid supply programs.
Article content
The criticism is based on "unfounded anecdotes," "silly, boogeyman" tales and "disprovable, quote unquote, stats,"  Dr. Andrea Sereda, head of the safer opioid supply program at London InterCommunity Health Centre, charged.
Research has shown the opposite of what critics are claiming, said epidemiologist Tara Gomes, principal investigator of the Ontario Drug Policy Research Network and a Canada Research Chair in drug policy research and evaluation.
"There's a high reliance on anecdote to support their negative messages. It's not something we typically see in medicine and evidence-based policy," Gomes said. "We cannot rely on anecdote here. We have to rely on rigorous research."
Amplified by politicians, the criticism presents a danger to harm-reduction policies across Canada, Sereda said.
Article content
"We keep doing this research to prove that harm reduction saves lives and we keep getting the same answer that it does. To think that harm reduction could be removed from the options for people in Ontario or across Canada, I find that quite terrifying," Sereda said.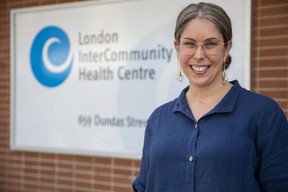 Harm reduction aims to keep people who use drugs healthier, leaving it up to individuals to determine how they will address their addictions, if at all.
Treatment and abstinence programs offer different approaches and services.
Under the safer supply program in London, clients are prescribed Dilaudid pills, a hydromorphone, and pick up the pills at a pharmacy. Some people crush the pills and inject them.
Sereda began the program with a handful of patients in 2016, and now has about 300. Patients also are provided regular medical care.
Article content
Each new stage of harm reduction in Canada – from methadone clinics to safe consumption sites to safer opioid supply programs – has attracted critics.
But allegations of the negative impacts of safer supply have surged in the past few weeks.
A recent article in The National Post quoted several doctors saying safer supply was increasing dangerous infections in people who inject drugs. The story also said there was evidence people were reselling the hydromorphone they received in safe supply to fund the purchase of deadly fentanyl.
The National Post and The London Free Press are both owned by Postmedia Network Inc.
Citing the article, Conservative Leader Pierre Poilievre attacked the Liberal government in the House of Commons last week, accusing them of flooding the streets with drugs that were killing people and being sold to children.
Article content
In London, Ward. 4 Coun Susan Stevenson has amplified the criticism, retweeting and commenting on the article and Poilievre's reaction.
"We've gone from critics and physicians saying that these are anecdotes and we need to resolve these problems to Poilievre standing up in the House of Commons and saying these anecdotes are fact," Sereda said.
Among the critics quoted in the Post article is Sharon Koivu, a palliative care physician at London Health Sciences Centre. Koivu also has testified in an Alberta lawsuit about safe supply.
A "massive amount" of diverted Dilaudid from safe supply has made the drug inexpensive on the streets of London and more available at secondary and even elementary schools, Koivu said in an affidavit for the lawsuit.
Article content
Meanwhile, those selling Dilaudid are using the money to buy more fentanyl, Koivu said in the affidavit.
As well, she's seen an increase in infections from drug use among her patients, the "vast majority" injecting Dilaudid, either as a participant in the "safer supply" program or buying diverted drugs from the program," she said in the affidavit.
Koivu reiterates several of the allegations in the article. The Free Press reached out to Koivu for comment but received no response.
Sereda take issue with both of Koivu's key claims.
"Not a single physician critic of safer supply has been able to provide us with an example of medications being sold to children. This seems to be the boogeyman of safer supply. It is silly," she said.
Article content
It also stigmatizes her patients, suggesting they would sell their medication to children, Sereda said.
"My patients are humans and parents and family members themselves. They are community members, my patients. I can, I will stand firmly and say that my patients will not, would not sell (their medication) to children on school yards."
Diversion in general is a serious issue, one that London InterCommunity Health Centre takes seriously, she said.
"We acknowledge diversion does happen. We know that some people will sell or trade their medications, to get other things that they need in their life," Sereda said.
"In London, at least 99 per cent of our patients are also on social assistance, which means they're living in abject poverty. And so, when you're living in abject poverty, anything that you have that has value can be traded for something else."
Article content
The London safe supply program works with patients to find other strategies so they can eat or find shelter, so they don't have to sell their medications, Sereda said.
"We monitor everyone in our program very closely for evidence of diversion. We do a urine toxicology test with every person with every single visit. We watch and we make sure that the medications we're prescribing are in those urine samples. If we have objective evidence that somebody is not taking their medication, then we talk with that person. We again try to overcome any barriers that may be causing that."
In some cases, patients have been shifted to taking the medications at the pharmacy rather than taking them at home to ensure they weren't diverting, Sereda said.
Article content
It makes no sense to claim on the one hand that safer supply has made Dilaudid inexpensive and on the other that it's being sold to get money for fentanyl, Sereda said.
If the cost of Dilaudid on the street is so low, as critics claim, then anyone selling their pills wouldn't make enough to afford much of the more expensive fentanyl, she said.
Infection rates in general rose as fentanyl was introduced into the market, Sereda said.
There could be any number of reasons for that, including the facts fentanyl is injected more often in a day than heroin or other opioids, and that it's cut with any number of unknown substances.
But research has shown that infection rates among safe supply patients using Dilaudid is lower than others using opioids, Sereda said.
Article content
A study released last fall, led by Gomes and Sereda, examined medical outcomes on 82 London residents who received a diagnosis of opioid use disorder and had entered the safer opioid supply (SOS) program between January 2016 and March 2019, and a comparison group of people with opioid use disorder and similar demographic and clinical characteristics, but who were not in a safer supply program.
"The (SOS) program led to important declines in ED visits, inpatient hospital admissions, admissions for incident infections, and health-care costs . . . in the year after program initiation, with no (statistically significant) corresponding change observed in a matched group of unexposed individuals residing in London who did not access this program," the study concluded.
Article content
There were no opioid related deaths in the safer supply patients during the research period, the study said.
Increase in opioid overdoses bolsters case for safe drug supply: Doctor

Local opioid-overdose ER visits doubled in two years
There have been patients in the program die of overdoses, but they were on other more deadly street drugs at the same time, Sereda said.
Dilaudid is a form of hydromorphone that London researchers, including Koivu, have concluded do not lead to infections like HydroContin does, she said.
Sereda said she's asked those doctors questioning the research backing up safe supply to provide studies backing up their claims.
"If they provided data of harm, we would address it. . . . However, despite repeated requests for evidence to support their anecdotes, we have not been provided with this information. I find it ironic that these physicians criticize the quality of published safer supply research, but offer no data or evidence to support their own statements."
Gomes stressed that supporters of safe supply don't think it's a panacea solving all addiction issues.
"Safe supply is one option that has shown, with evidence, to be beneficial to people who use it."
rrichmond@postmedia.com