Article content
Windsor's downtown councillor is asking his elected colleagues to take back the city's support for a drug consumption and treatment services site across the street from the Detroit-Windsor tunnel entrance.
Article content
During council's meeting on Monday, Ward 3 Coun. Renaldo Agostino will bring forward a notice of motion calling for a previous vote in favour of the site to be rescinded. The motion also asks that the city work with the Windsor-Essex County Health Unit to find an alternative location.
Article content
"It was something I discussed during my campaign, so it should come to no surprise to anyone that I want to do better," Agostino told reporters on Thursday.
"I am in full support of a CTS site, but I want to do it right the first time. I think that we still have an opportunity to do something better for the community, do something better for the city, and most importantly do something better for the businesses and residents of downtown Windsor."
Article content
One year ago, council narrowly endorsed the proposal for a consumption and treatment services clinic at 628 Goyeau St., where individuals could legally use pre-obtained substances under safe conditions and the supervision of medically trained workers, and have access to treatment and other supports.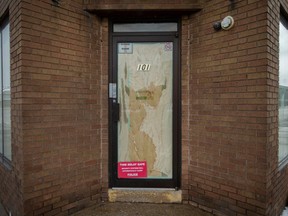 Months later, council supported a new location next door at 101 Wyandotte St. E. after the health unit failed to secure a lease agreement for the preferred Goyeau site.
Both resolutions squeaked by in 6-5 votes. Against the locations were Mayor Drew Dilkens and councillors Fred Francis, Jo-Anne Gignac, Ed Sleiman, and Jeewen Gill.
The application from the local health unit for a consumption and treatment site needed council endorsement before it could be submitted to the feds for an exemption to allow drug use and the province for funding.
Article content
In response to Agostino's notice of motion, the local health unit said community consultation on the selected site spanned four years and involved more than 3,000 interactions with neighbourhood residents, businesses, and stakeholders.
"We welcome members of our community as well as our media partners to review details of these consultations at wecoss.ca/cts," the health unit said in a written statement. "We look forward to continuing the education process for our elected officials and members of the public related to this important service."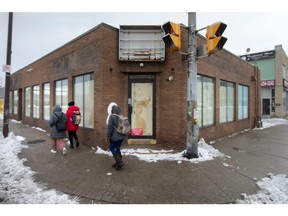 The health unit had narrowed down the list of possible locations from 31 sites to the Goyeau and Wyandotte buildings. After extensive community consultations, the health board in October of 2021 chose 628 Goyeau Street. The health unit's then-CEO Nicole Dupuis at the time said the health unit had envisioned offering other services at the larger Goyeau building beyond the safe consumption program.
Article content
This week, the health unit invited downtown residents and businesses to participate in virtual town hall meetings on the chosen site.
Agostino said he "certainly hopes" he can convince his council colleagues to support an alternate location, one further from the tunnel entrance and businesses. He said he has a few ideas for different sites but would not share them.
"If we need it as soon as possible, let's all sit down, work together as a team, pick the right place for this and move forward," Agostino said.
Downtown Windsor consumption and treatment site should be ready in months, says health unit

Health unit secures location for consumption site

Windsor council votes in favour of new consumption site location

Council endorses 'life-saving' Goyeau St. consumption site in 6-5 vote
The building at 101 Wyandotte St. E. is currently being renovated to house consumption and treatment services.
"If there's anybody that thinks that there's not a better location that's not only going to help that are in need of these services but also will help the people of downtown Windsor, those locations exist, and I'm going to do everything in my power to get there," Agostino said.
tcampbell@postmedia.com